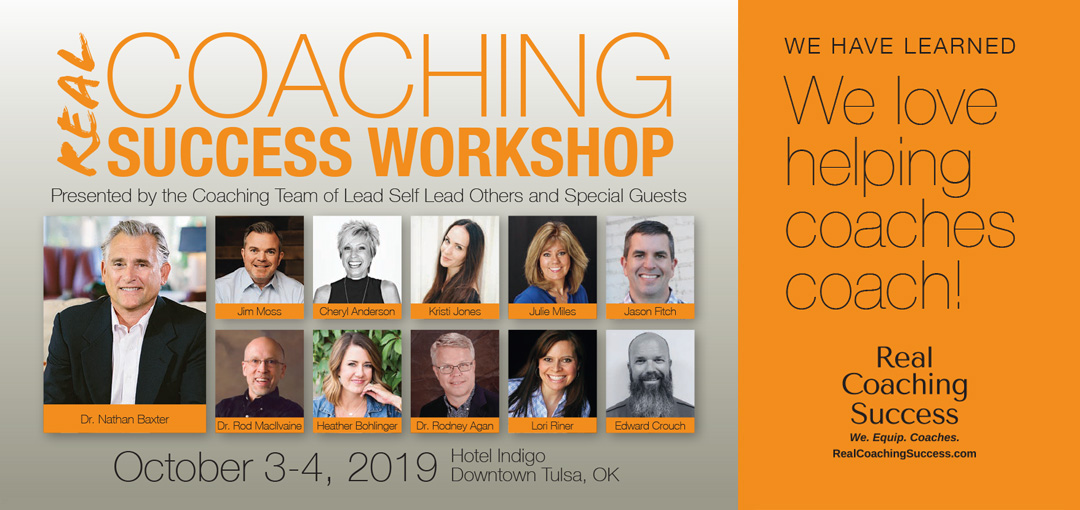 You are invited to join other coaches and mentors at our Coaching Success Workshop where you will receive practical training designed to help you be more effective in your coaching.
You will receive training on 3 primary topics: Coaching Mindset, Coaching Skills & Tools, and Coaching Business. Check out the schedule for more details on the topics.
This 2 day event is designed to promote maximum collaboration and discussion. We want to learn from each other.
We are not interested in teaching you "our way of coaching" but rather we will show you how to put together and continually improve "your way" of coaching others. This is an equipping experience where your style, your passions, your opportunities are all factored in to help you become the very best coach you can be.
Real Coaching Success Workshop
Presented by the Coaching Team of LeadSelfLeadOthers and special guests
Date: October 3-4 , 2019
Need a Hotel Room? Indigo Hotel Downtown in Tulsa, OK
Need more information? Contact becky@realcoachingsuccess.com


Let's learn together!
---
CHECK OUT SOME THESE AMAZING TOPICS:
What is coaching and why does it matter?
Steps to starting a coaching business.
Coaching? Counseling? What's the difference?
Coaching for free or for a fee?
Essentials of a great coaching tool box.
How to build your coaching business and set your coaching fees.
How to brand yourself and best social media practices.
Tips for getting maximum coaching impact using the Birkman® assessment.
Best practices for successful coaching.
Key components of a great coaching proposal.
How to take your listening skills to the next level.
HERE ARE SOME OF OUR CONFIRMED PRESENTERS:
Jim Moss / Tulsa, OK
320coach.com
Dr. Rod MacIlvane / Tulsa, OK
leadselfleadothers.com
Cheryl Anderson / Gainesville, FL
Lead The Way Coaching and Consulting
Heather Bohlinger / Fort Collins, CO
Fiorii Coaching and Consulting
Kristi Jones / Tulsa, OK
leadselfleadothers.com
Dr. Rodney Agan / Atlanta, GA
theConnexusGroup.com
Julie Miles / Tulsa, OK
leadselfleadothers.com
Lori Riner / Tulsa, OK
Life Inspired
Jason Fitch / Tulsa, OK
leadselfleadothers.com
Edward Crouch / Hawkins, TX
Second Mile Coaching
Dr. Nathan Baxter / Tulsa, OK
leadselfleadothers.com