Coaching Success Workshops
The 2022 Real Coaching Success Workshop is scheduled for September 22-23, at Tulsa Country Club in Tulsa, OK. Registration opens 7/11/22 and we will be offering an early bird special again this year. Check out the details and registration link below.
The Early Bird price of $349 for the 2022 Coaching Success workshop is OPEN!! Early Bird registration ends 8/29/22.
Regular pricing of $499 begins 8/30/22.
Use the button below to register and pay for the workshop.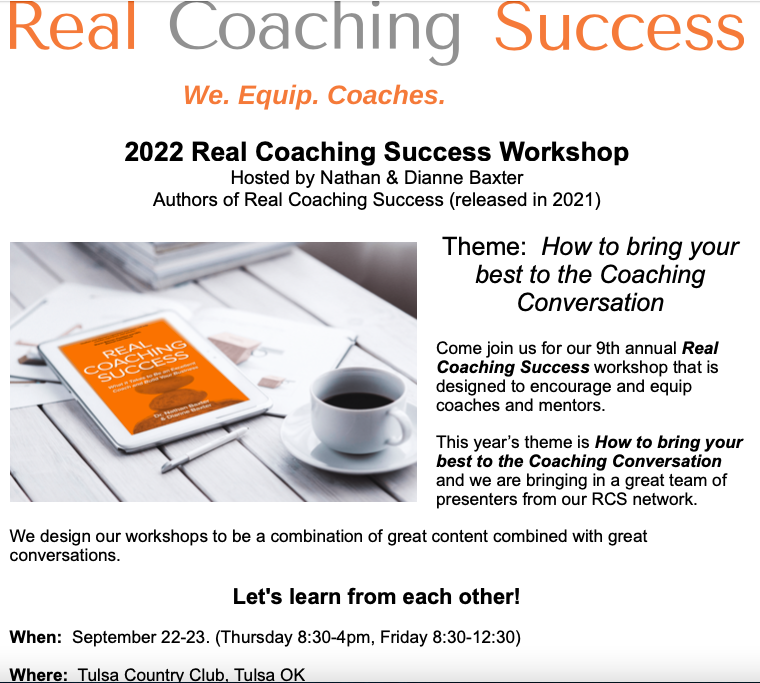 Download the complete flier here.
---
CHECK OUT SOME THESE AMAZING TOPICS:
Best practices to deliver excellence in your coaching.
Creative ways to use assessments and other tools.
How to write good proposals and set your fees.
How to continually find new clients.
Why Inspirational Intelligence is important to coaching.
What it really takes to experience real coaching success.
---
2019 was a Success!
You can view all of the 2019 picture/videos here.