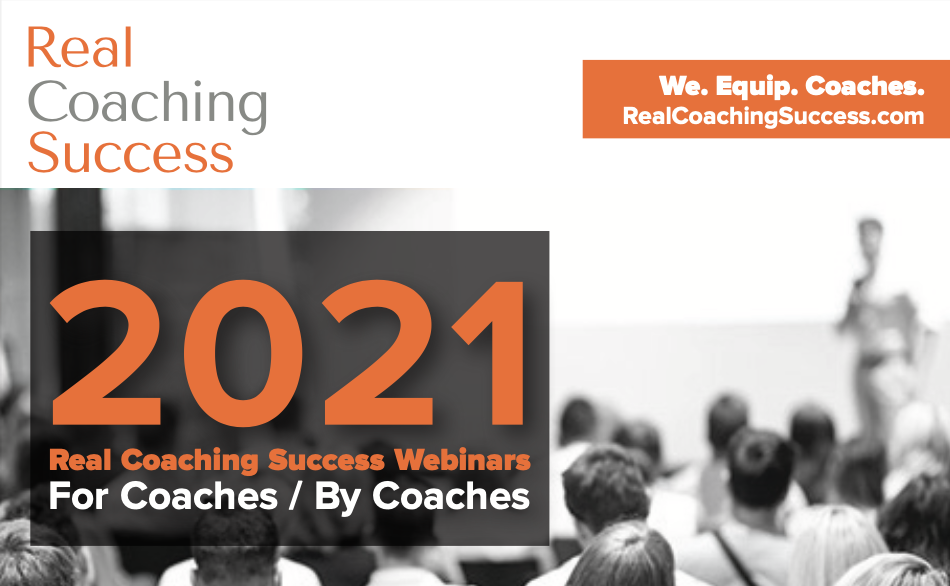 We will be bringing you exciting content (right to your computer) with our Webinar series. This free resource is being offered to anyone who shares our passion of coaching and mentoring others. Our purpose is to encourage and equip coaches to help them experience real coaching success. Let's learn from one another!
To register for any of our webinars, please email: office@realcoachingsuccess.com and provide your name, email address, and webinar you are interested in attending.
2021 Dates: 10/20/21, 11/17/21 2022 Dates: 3/23/22
---
11/17/21 — Navigating Life's Transitions — Coaching people to make changes with courage, by Dr. Rod MacIlvaine.
Are you facing a transition in your life? All of us go through seasons of change. Sometimes we're ready, but usually we're not. Sometimes our transitions are expected. We anticipate them. We clearly see them up ahead. Other times seasons of change come crashing down upon us, putting us on the defensive, sapping our serenity. One thing is certain: most of us will not navigate our transition well without the help of a coach.
In this webinar, LSLO certified veteran coach, Dr. Rod MacIlvaine, will lead us through a simple model that will not only help us navigate our own transitions well; it's a model we can use to coach others who face their own transitions.
In this webinar:
He will help you identify the four types of transitions that are common to life.
He will show you why you are uniquely vulnerable during transitions.
And he will show you how to set a roadmap through your transition that allows you to make choices and have agency even when you don't feel you have much control.
---
10/20/21 — Stuff you really need to know if you want be a great coach, by Dr. Nathan Baxter. He will be selecting a variety of terms from the glossary in the book that he and Dianne co-wrote entitled "Real Coaching Success. What it really takes to be an excellent coach and build your business."
Dr. Baxter is the founder and leader of Lead Self Lead Others coaching and consulting firm based in Tulsa, OK. He along with his coaching team have been working with leaders from a wide range of industries for the last 12 years. In 2018, He and his wife, Dianne, launched a new company, Real Coaching Success, that focuses on encouraging and equipping coaches.
---
9/22/21 — Six Steps to Coaching Fearlessly & Consistently, Jim Moss, Founder and Leadership Coach at 320coach.com.
The recording is here.
---
8/18/21 — Topic: Navigating Your First 5 Years of Coaching, Julie Miles. The complete flier is here.
You can view the recording here.
Resource List from Julie Miles:
---
7/21/21 — Topic: Building a Business Model that aligns with Who You Are, Amie Gamboian. View the full flier.
Here is the recording.
---
5/19/21 — Topic: Coaching in a Corporate Environment, David Bervig. View the full flier here.
You can view the recording here.
---
4/28/21 — Topic: Working your Coaching business like a business, Heather Bohlinger. Here is the full flier.
Here is the recording.
---
3/31/21 — Topic: Coaching Year One, Thomas Thompson. Click Here to view the full flier.
Five Shifts in Coaching Year One
Shift #1 — SHAPE: How will you give your week structure?
Shift #2 — SURROUND: How will you create your roundtable?
Shift #3 — SITUATION: What environment gives you your most productive self?
Shift #4 — SIFTING: What are the critical priorities in your new role?
Shift #5 — SUSTAIN: Where will you find your motivation to keep going?
You can watch the recording here.