Our Founders
Dr. Nathan Baxter and his wife Dianne are the founders of Real Coaching Success and authors of the book Real Coaching Success: What it Takes to Be An Excellent Coach and Build Your Business. and they enjoy equipping others in order to help them further develop in their coaching and mentoring skills and knowledge.  Nathan has been coaching professionally for over 15 years and carries a full load of clients along with his team at Lead Self Lead Others (LeadSelfLeadOthers.com).  Dianne has been coaching women in her successful Mary Kay business for over 30 years.
In 2014, they decided to start helping others who were interested in coaching by hosting a 2 day workshop in their home, as a way to pass along their coaching tips, tools, and techniques and inspire other coaches to develop their own unique coaching practice. This has since grown into an annual Coaching Success Workshop held in downtown Tulsa, OK each year.
Dr. Baxter received a Bachelor of Science Degree in Organizational Administration from Oklahoma State University, a Masters of Divinity degree from Southwestern Baptist Theological Seminary, and a Doctorate of Ministry degree from Dallas Theological Seminary.  He also is a certified Birkman® Consultant by Birkman International in Houston Texas.  Dianne received a Bachelor of Science degree in Marketing from Oklahoma State University. They live in Tulsa, OK and have 2 Sons and Daughters-in-law, and 3 grandchildren.
Our Company
Real Coaching Success is dedicated to helping coaches and mentors develop their skills and increase their success in coaching.  We provide resources that equip and encourage professional and volunteer coaches.
Our Vision and Mission
Real Coaching Success

 has a vision of being an industry leader for resources to equip those who desire to provide coaching and mentoring excellence.
The daily mission of 

Real Coaching Success 

is to equip and encourage people who want to coach and mentor others.
Our Values 
We want to help others develop their own unique coaching style.
We desire to provide excellent training and resources that are affordable.
We create resources and services that have been properly field tested and we know they work.
We work hard to keep our resources user friendly.
We believe that coaches need to spend time together and learn from one another.
Nathan's coaching journey

Started coaching over 30 years ago but didn't call it coaching.  I called it "intentional relationships"
I have coached and mentored over 1000 people.
In 2008, I began to sense the need to form a brand around the coaching I was doing.  For the first time people were seeking me out and wanting to pay me to help them develop their leadership.
Launched

Lead Self Lead Others

and 2 years later I decided to make coaching my full time vocation.
For 6 years, it was just myself,  As business grew, I realized the need for assistants and additional coaches.  Today we have a team of coaches and several assistants to help us best serve our clients.

Why I started

Real Coaching Success

(the problem we were trying to solve)

After training 20 people in my coaching technique, my tools, and my methodology, I realized that I needed to start a new brand where all of my efforts to equip coaches could be housed.  So I started a new company in 2018, called

Real Coaching Success.

Our mission is very simple:  To equip others to experience success in their coaching and mentoring.  We do this through a free podcast, hosting gatherings of coaches at workshops and our annual conference.  We also provide a coaching certification process you should check out along with a variety of stand alone coaching courses.
We are here to help, so let us know how we can help you experience your own real coaching success.
"Nathan and Dianne's experience and heart will help coaches experience real success."
- Sharon Birkman, President and CEO, Birkman International
---
What is Real Coaching Success?
You believe every person has tremendous potential. That's why you're interested in helping others move forward. But do you believe in reaching your own full potential as a coach?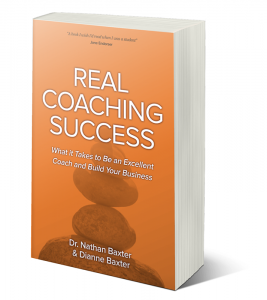 Whether you're interested in becoming a coach, have been coaching and want to reach the next level, or want to be more effective in your mentoring relationships, Nathan and Dianne's three decades of experience will not only define Real Coaching Success, but help you reach it.
---
"Dianne and Nathan have been, and continue to be, a life-changing force. If you're serious about moving your story forward as a coach, this book is your next chapter."
- Keil Cadieux